In a major blow to vitalistic, subluxation centered chiropractic in Europe, the European Council on Chiropractic Education (ECCE) has denied McTimoney College of Chiropractic's request for accreditation.
The ECCE site team was made up of the following members: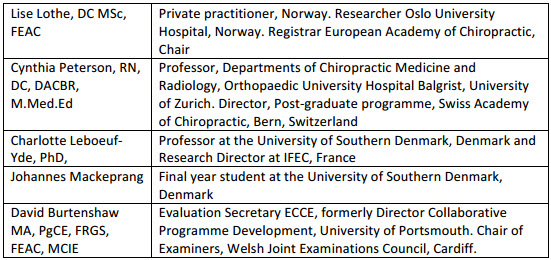 In their 39 page report the site team criticized McTimoney in regards to its philosophical orientation, evidence based practice, technique and, in a shocking statement, for using artwork at the school depicting the 33 Principles as evidence of problems with their educational process.

The site team included Charlotte Leboeuf Yde, PhD a back pain researcher who has voiced her opinions about practicing outside the back pain box in numerous publications. Most striking is this comment about the need to SANITISE practitioners who veer outside her little "treatment" box:
"However, when I look at the rest of the world, I see a divergence developing, a deep cleft between those who are more or less knowledgeable and those who are not. This is not specifi cally typical of my own profession; I see it among physiotherapists, osteopaths and manipulating medical practitioners as well. Interestingly, this resembles what we see in public health in relation to life-style diseases. The healthy are healthier today than ten years ago and the unhealthy are even worse off than they were ten years ago. Therefore, we have a big task ahead of us, namely to sanitise those professions who deal with the conservative treatment of musculoskeletal disorders."   
Leboeuf Yde has been routinely critical of chiropractors in her research papers suggesting that they do not have the skill nor the time to determine if the research they are reading is really promoting what she calls "illogical, imagination based procedures".
This seems to have come through in the site team report where they denigrated McTimoney faculty on the issue of evidence based practice:
"...as most interviewed appeared to have an inadequate understanding of the various components of evidence-based practice.  Further, there appears to be a limited understanding of the levels of evidence and relative academic quality of chiropractic journals."   
McTimoney joins the only other vitalistic, subluxation centered program in Europe (Barcelona College of Chiropractic) in being denied accreditation by the ECCE. BCC was denied accreditation due to similar issues regarding evidence based practice and strangely because they referred to their patients as "practice members" instead of patients.
McTimoney students have responded with their own 17 page report detailing numerous instances of inappropriate behavior by the site team as well as providing direct evidence of inaccuracies in the site team report. 
The ECCE is part of the larger group of organizations and self elected regulatory bodies within chiropractic known collectively as the Chiropractic Cartel. This Cartel has methodically taken control of the chiropractic profession in an effort to make it more acceptable by organized medicine, include drugs and fashion chiropractic as the practice of primary care.