Chiropractic College Enrollment Remains Flat
No Significant Growth Since 2002
According to a recent analysis of data from the Integrated Postsecondary Education Data System (IPEDS), overall chiropractic college enrollment remains flat with no significant increase in enrollment numbers for United States chiropractic programs since 2002.
IPEDS is a system of interrelated surveys conducted annually by the U.S. Department's National Center for Education Statistics (NCES). IPEDS gathers information from every college, university, and technical and vocational institution that participates in the federal student financial aid programs. The Higher Education Act of 1965 requires that institutions participating in federal student aid programs report data on enrollments, program completions, graduation rates, faculty and staff, finances, institutional prices, and student financial aid. These data are made available to students and parents through the IPEDS Data Center.
Congress, federal agencies, state governments, education providers, professional associations, private businesses, media, students and parents, and others rely on IPEDS data for this basic information on postsecondary institutions.
The completion of IPEDS surveys is mandatory for institutions that participate in any federal student financial aid program authorized by Title IV of the Higher Education Act of 1965. More than 7,500 institutions complete IPEDS surveys each year.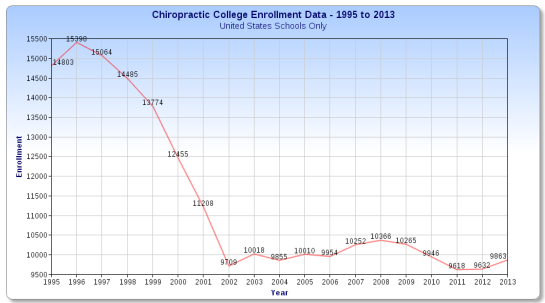 According to these data from 1995 to 2013 chiropractic college enrollment peaked in 1996 and then dropped precipitously afterward until 2002 with an average of 9957 students per year enrolled in 19 chiropractic programs.
During this time the profession has seen the closure of two chiropractic programs – the short lived Colorado College of Chiropractic and Cleveland College of Chiropractic – Los Angeles. One new program - D'Youville began reporting data in 2007.
Other than encouraging practitioners to refer more students to chiropractic schools there does not appear to be any profession wide plan for increasing enrollment across all chiropractic programs.
Future articles will flesh out the enrollment data in more detail.
RELATED STORIES
Chiropractic Colleges Not Preparing Graduates for Business Aspects of Practice